Public
REAL ESTATE AUCTION &
Restaurant Equipment!
GREAT INVESTMENT PROPERTY!

3,241 Sq. Ft. 2 Story Building with Former Restaurant &
Rented Apartment Plus Rented 2 Bay Garage!
Parking for 20 Cars, On .30 Acre.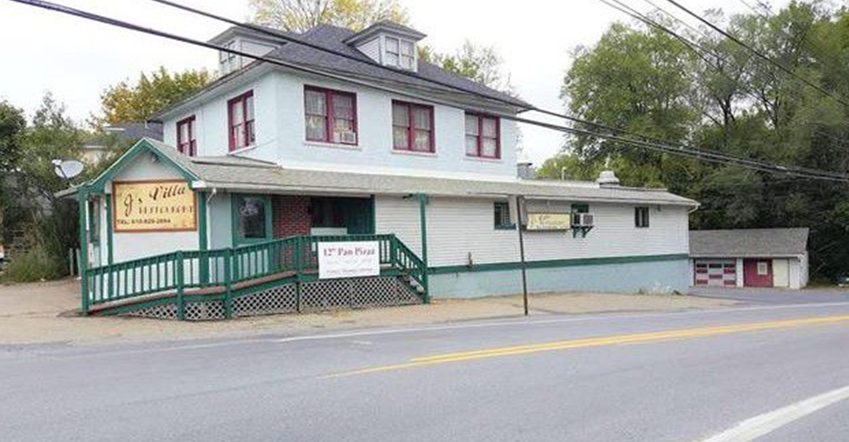 Monday, September 9th @ 10:00 A.M.
6618 S. Delaware Ave, Martins Creek, Pa 18063
(Corner of PA Route 611)
Real Estate Facts:
Northampton County Deed Book 2004-1, Page 150033, Total 4 Pages.
PIN H10NWZ-1-5-0317
Upstairs Apartment, 2 Bedroom, Under Lease
Garage, 2 Bay with Office in former 3rd Bay
New Roof on Main Building 2015, Garage Roof 2013
Man Bldg, 2 Baths, Bar Area, 3 Dining Areas
Well pump 3 years old.
Basement, Concrete
Updated Bathrooms
Heat: Restaurant-Oil/or Electric, Apartment Electric.
Tenants pay their own Utilities.
Second Floor, Leased for $895.00 per month
Garage 2 Car & Office $295.00 per month
Zoning: A, bldg. 1950. Bldg Class B
All Property Sold As IS & Where Is!
The order of sale would be: First: to offer the entire package. (The Real Estate & Restaurant Equipment/Fixtures as a Whole). Second: to offer the Real Estate by itself. Third: to offer Restaurant Equipment/Fixtures individually, piece by piece. Whichever way generates the most dollars is how it should be sold – Subject to Approval.
Terms & Conditions of the Real Estate sale.
1. A non-refundable deposit of Twenty Thousand ($20,000) by the successful and highest Bidder at the time of sale. Balance to be paid upon closing. Closing to be within forty five (45) days, Time being of the essence. No Buyer's Premium on Package or Real Estate Sale.
2. Possession to be delivered at time of closing.
3. Taxes and other carrying charges shall be adjusted at the time of closing. Closing
costs to be divided accordingly.
4. Title shall be good and marketable. Free and clear of all leans and encumbrances.
Inspection: BY APPOINTMENT!
Restaurant Equipment:
Bar, L Shape 8' x 12'*S/S 3 Compartment Under Bar Sink, DB L& R*S/S Hand Sink GNF*Refrigerated Merchandiser, Single Door, True (Coca Cola)
*Cash Register*Meat Slicer, Globe Model 500 *Erecta Shelving 36" x 14", 5Tier
*Upright Reach In Refrigerator, S/S, 2 Door, True*S/S Hand Sink, GNF*S/S 3 Bay Sink
*Tables 36"x 36", Formica Top, Wood Trim, Pedestal Base (12+ )*Chairs, Wood, Ladder Back, Uph/ Bottom (60+)*S/S One Bay Sink*Upright Reach-in Refrigerator /Merchandiser, 2 Door, True*Fire Extinguisher, BK, Model*Alum. Pan Rack*
Walk in Cooler, Remote Compressor*Table Tops, Round, Walnut Formica (2)*
S/S Full Size Pan*S/S Chafing Dish*Champagne Buckets w/Stands (2)*
Table Bar Height 24" Round, Pedestal Base*S/S Bar Condiment Holder*
Griddle, 48", Star Mod 648, Gas*S/S Equipment Stand 48"*Upright Broiler, Oven, Garland, Gas*Fryers, Gas, Floor Model (2)*Hobart A200, 20 Qt. Mixer, w/Hook*
Tomato Slicer*Shredding Attachment for Mixer*S/S Equipment Stand for Mixer*
Pizza Oven, Bakers Pride, Gas, 424P, Single Deck*Chest Freezer. 8 cu ft*
Small wares, Glasses, Plates
Terms & Conditions of Restaurant Equipment:
Payment in Full the day of sale, via cash, good check accompanied by a bank letter of guarantee. Example: Mr/Mrs is a customer of this bank and will guarantee any and all checks on account #_________ Presented to and including $________________(Amount), for purchases at the Col. Steve Sitar & Co. on ____________________2019. Ten percent buyer's premium in effect, on restaurant equipment (If sold separate).
AUCTIONEER'S NOTE: CLOSE TO: NJ Border, Easton, Bangor, Stroudsburg, Allentown, Bethlehem. Airport 10.2 miles (30 Min). Junction of Busy PA Route 611 & Delaware Ave, (Routes to Bangor, Tatamy Stroudsburg and Easton) Area appears great for a Restaurant.
An Investor a Restauranteurs Dream!
DISCLAIMER: All information in this brochure was derived from reliable sources, believed to be correct, but not guaranteed! Bidders shall rely entirely on their own information, judgment & inspection. All announcements from the Auction Block will take precedence over any previously printed matter or oral statements made! NO warranties expressed or implied. This brochure is only a guide. Inventory May vary. Everything sold "As is & Where is".
Hire The Commercial, Industrial & Real Estate Auctioneers!
MORE PICTURES ON AUCTIONZIP.COM & THE WEB SITE!
Col. Steve Sitar & Co.
P.O. Box 779 Waverly, Pa 18471
Ph: (570) 586-1397 Cell: 570-954-7001
www.auctionzip.com ID#4989
Auctioneers: Col. Steve Sitar, Pa.AU2124-L.
Dan Naylor, Pa.AU3054-L.